THE G|B DEFENDER USER GUIDE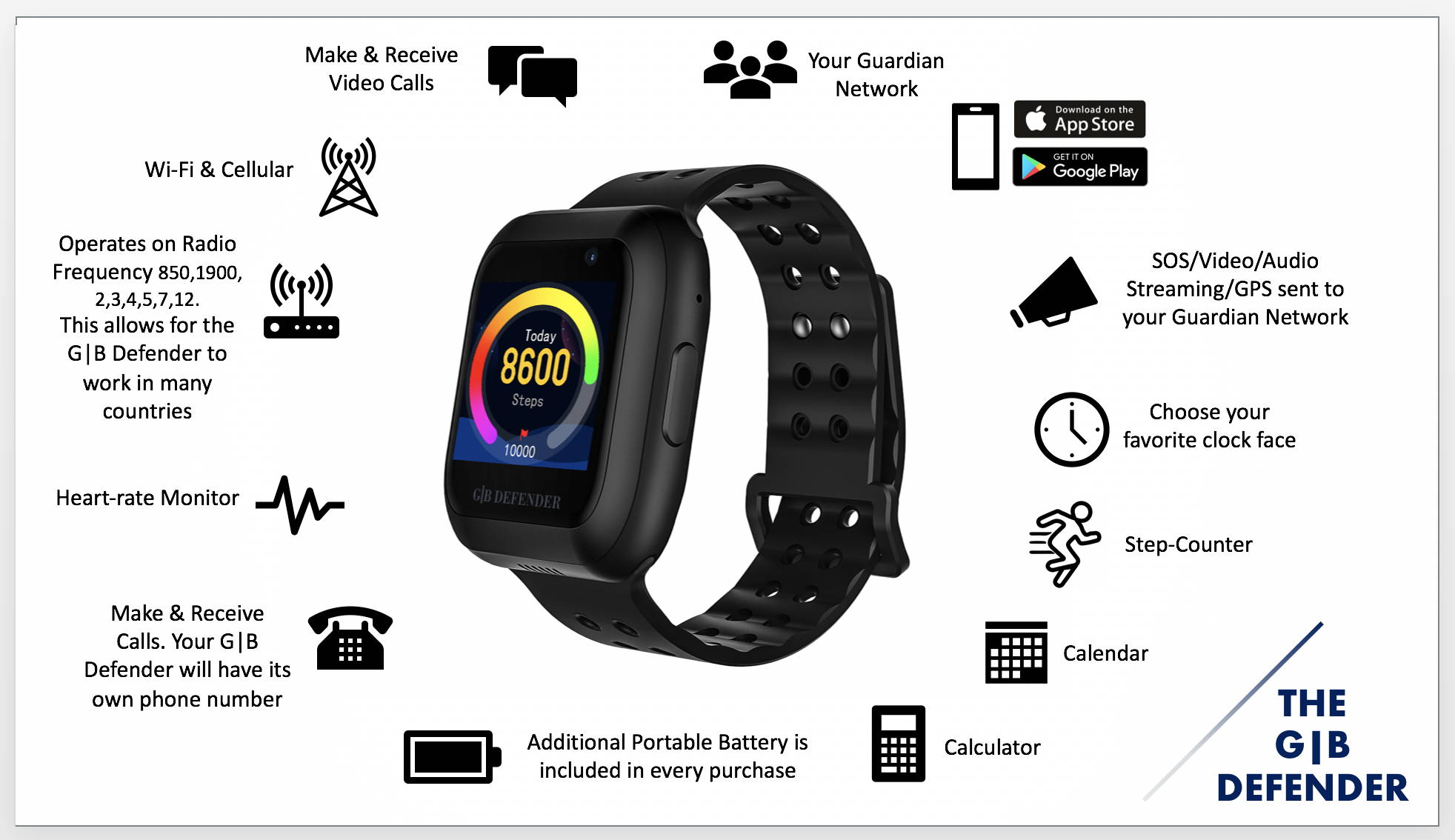 Congratulations on your new G|B Defender smart safety watch! Here are all the basics you need to know to get started.
With the push of the SOS button, the G|B Defender will take a video of what's happening around you and send it to your pre-approved contacts
(via the gbdefender app). The G|B Defender also records your location and can even send an emergency signal with your location to your Guardian Network. The G|B Defender also has other smartwatch functions. It includes a camera, voice chat, video chat, voice messages, heart rate monitor, step counter, timer, calendar, and even an alarm clock.You knew it was coming, so here it is—the fine print. Guardian Band reserves the right to make, without prior notice, changes or amendments to the contents of this manual. Sorry for the legalese, but we had to say it.
Now that you have your G|B Defender Watch, install theGuardian Band App on your smartphone.
The Guardian Band App is compatible with both iPhone and Android.
Details to download the App:
1. Make sure your phone has a strong wireless connection and download the Guardian Band App from the App Store or Google Play.
2. When you open the Guardian Band App, you will be taken to the login screen. Select "New User" and follow the instructions to set up an account.
3. Once you've set up your account and established your password, you will be taken to the home screen. Press the + sign in the upper left-hand
corner. This will take you to the QR code reader.
4. On your watch, go to settings. The first item is QR code. Press it, and the QR code for your watch will appear. Scan it with the QR code
reader on the App. Make sure that your watch's code is the first QR code you scan.
5. Fill in the required information. Giving your watch a name is VERY important, so don't skip that step! Press the "Register Watch" button.
6. You will now be able to see the location of your watch on the map on the home page of the App. From the home page, you can manage
your account information, make calls and video calls, view messages, add contacts, connect to Wi-Fi remotely for the watch, and set alarms.
7. If you want to add other users to your Guardian Network, scan the QR codes from their watches. In the event of an emergency, you
will receive a notification on your App from their watch. On the home page, you will see avatars for each person in your Guardian Network.
By shifting between them you can see their general information. You can add up to 5 people in your Guardian Network.
8. To add your watch to the Guardian Network of family or friends so they will be notified in the event that you have an emergency, have
your family and friends download the Guardian Band App. They can then scan or enter your watch's QR code and will be notified if you are in
an emergency situation. Family and friends do not need to own a G|B Defender to be in your Guardian Network.
Tip: Hard press on items in the Guardian Band App if you need more information. For example, if you want to edit an entry in your contact list,
hard press on the name and a pop-up box will appear for editing.