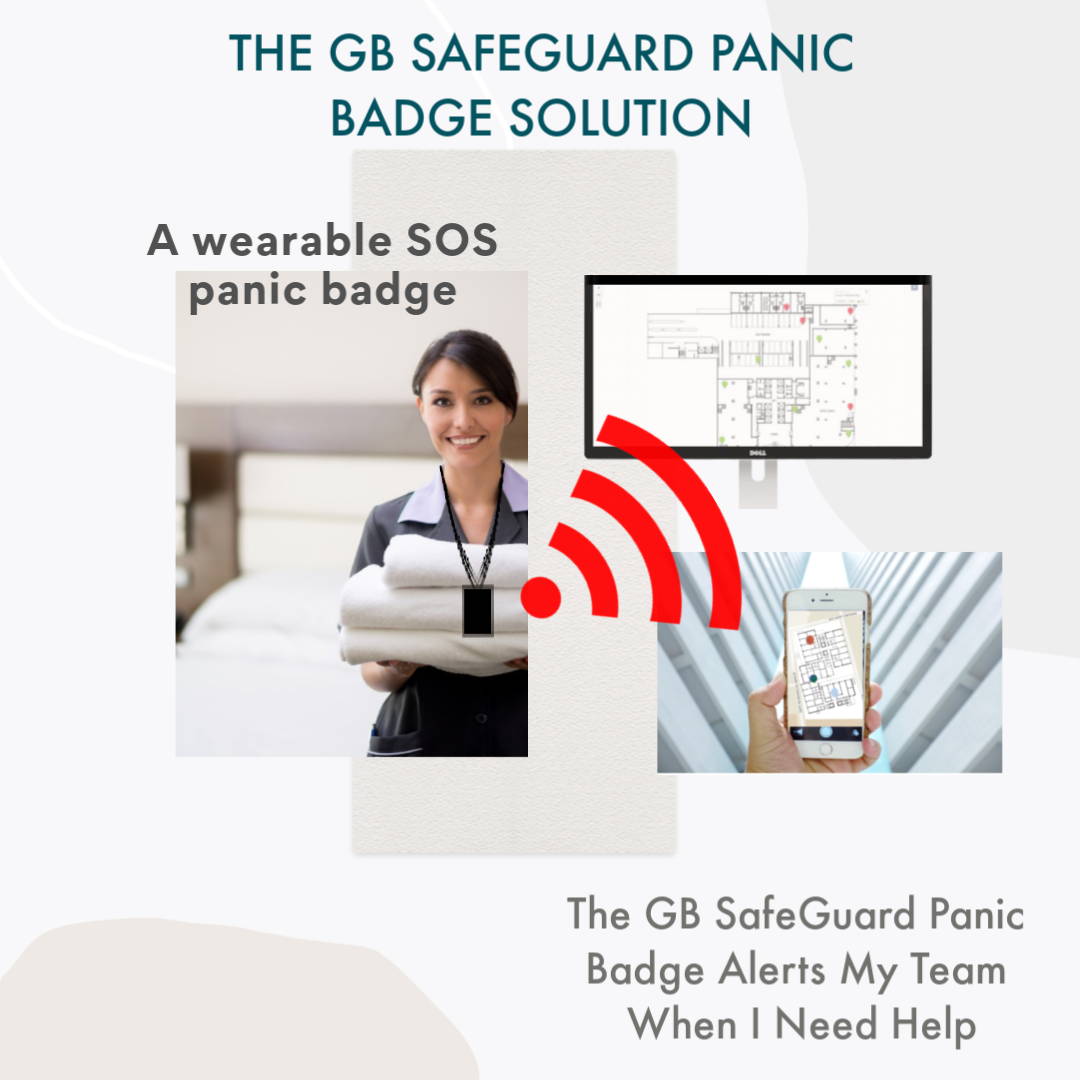 The GB SafeGuard Panic Badge

The GB SafeGuard panic badge arms your employees with a wearable badge that incorporates an SOS button. When the SOS button is pressed, floor and room level location will be sent to a main portal and the management's cell phone via BLE (Bluetooth) technology; alerting the team that a staff member needs assistance.

THE GUARDIAN BAND TEAM IS DEDICATED
TO YOU & YOUR
SECURITY TEAM
We want to be your go-to company for all of your safety needs. Providing wearable safety devices along with employee security/harassment training will ensure the ultimate five star promise for your hotels. You will be known in the industry as the company that goes 'above and beyond ' when it comes to the safety of your staff and guests.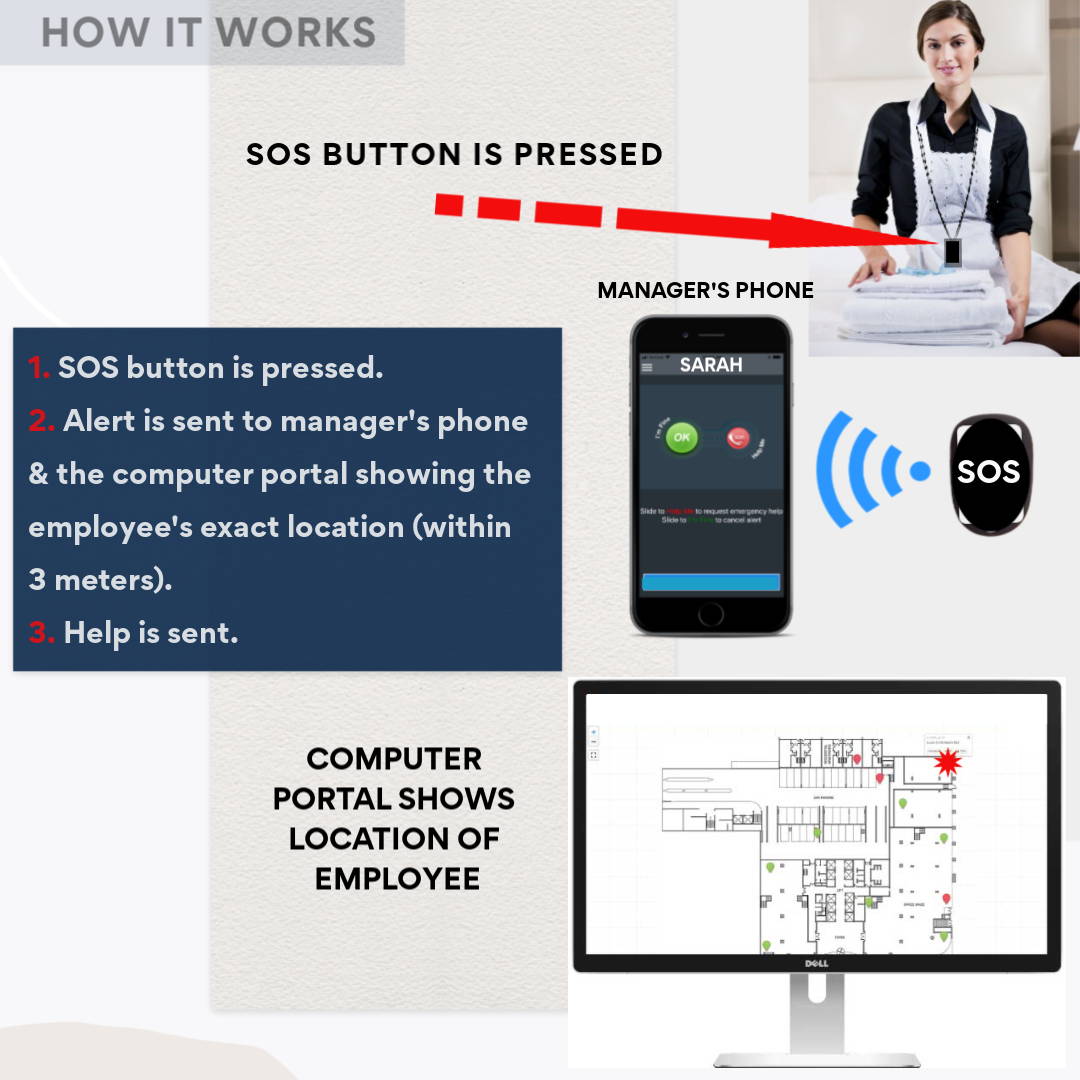 Having our finger on the pulse of hotel safety has been very valuable to our hotel customers. We know the Safety Issues Hotels face and we have the Solution.

WE ARE 100% COMMITTED TO GIVING YOU THE BEST CUSTOMER SERVICE, THE BEST PRICING, AND PROVIDING THE BEST SAFETY DEVICES FOR YOUR STAFF.
CONTACT US FOR A QUOTE.
ic button, panic badge, hotel panic badge, hotel panic button, hotel security, bluetooth id badge, law required, bluetooth id badge, law required, pebblebrook hotel, guest room, hotel, housekeeper union, hotels long beach, sexual harassment requires hotels hotel chains push a button, hotel industry, guest room hotel, housekeeper union, hotels long beach sexual harassment, requires hotels hotel chains push a button hotel industry, ahla, aahoa, 5 star promise, five star promise, hotel compliance, Marriott, hilton, Hyatt, best western, Springhill suites, courtyard, measure z, hotel panic buttons, panic badges for hotel, panic, sos badge, bluetooth, exact location, indoor positioning, indoor find, find a person, find an employee, track employee, tracking, safety employee, hotel compliance, hospitality, hospitality button, state button panic, panic button, panic badge, hotel panic badge, hotel panic button, hotel security, bluetooth id badge, law required, bluetooth id badge, law required, pebblebrook hotel, guest room, hotel, housekeeper union, hotels long beach, sexual harassment requires hotels hotel chains push a button, hotel industry, guest room hotel, housekeeper union, hotels long beach sexual harassment, requires hotels hotel chains push a button hotel industry, ahla, aahoa, 5 star promise, five star promise, hotel compliance, Marriott, hilton, Hyatt, best western, Springhill suites, courtyard, measure z, hotel panic buttons, panic badges for hotel, panic, sos badge, bluetooth, exact location, indoor positioning, indoor find, find a person, find an employee, track employee, tracking, safety employee, hotel compliance, hospitality, hospitality button, state button panic,panic button, panic badge, hotel panic badge, hotel panic button, hotel security, bluetooth id badge, law required, bluetooth id badge, law required, pebblebrook hotel, guest room, hotel, housekeeper union, hotels long beach, sexual harassment requires hotels hotel chains push a button, hotel industry, guest room hotel, housekeeper union, hotels long beach sexual harassment, requires hotels hotel chains push a button hotel industry, ahla, aahoa, 5 star promise, five star promise, hotel compliance, Marriott, hilton, Hyatt, best western, Springhill suites, courtyard, measure z, hotel panic buttons, panic badges for hotel, panic, sos badge, bluetooth, exact location, indoor positioning, indoor find, find a person, find an employee, track employee, tracking, safety employee, hotel compliance, hospitality, hospitality button, state button panic, panic button, panic badge, hotel panic badge, hotel panic button, hotel security, bluetooth id badge, law required, bluetooth id badge, law required, pebblebrook hotel, guest room, hotel, housekeeper union, hotels long beach, sexual harassment requires hotels hotel chains push a button, hotel industry, guest room hotel, housekeeper union, hotels long beach sexual harassment, requires hotels hotel chains push a button hotel industry, ahla, aahoa, 5 star promise, five star promise, hotel compliance, Marriott, hilton, Hyatt, best western, Springhill suites, courtyard, measure z, hotel panic buttons, panic badges for hotel, panic, sos badge, bluetooth, exact location, indoor positioning, indoor find, find a person, find an employee, track employee, tracking, safety employee, hotel compliance, hospitality, hospitality button, state button panic,panic button, panic badge, hotel panic badge, hotel panic button, hotel security, bluetooth id badge, law required, bluetooth id badge, law required, pebblebrook hotel, guest room, hotel, housekeeper union, hotels long beach, sexual harassment requires hotels hotel chains push a button, hotel industry, guest room hotel, housekeeper union, hotels long beach sexual harassment, requires hotels hotel chains push a button hotel industry, ahla, aahoa, 5 star promise, five star promise, hotel compliance, Marriott, hilton, Hyatt, best western, Springhill suites, courtyard, measure z, hotel panic buttons, panic badges for hotel, panic, sos badge, bluetooth, exact location, indoor positioning, indoor find, find a person, find an employee, track employee, tracking, safety employee, hotel compliance, hospitality, hospitality button, state button panic,panic button, panic badge, hotel panic badge, hotel panic button, hotel security, bluetooth id badge, law required, bluetooth id badge, law required, pebblebrook hotel, guest room, hotel, housekeeper union, hotels long beach, sexual harassment requires hotels hotel chains push a button, hotel industry, guest room hotel, housekeeper union, hotels long beach sexual harassment, requires hotels hotel chains push a button hotel industry, ahla, aahoa, 5 star promise, five star promise, hotel compliance, Marriott, hilton, Hyatt, best western, Springhill suites, courtyard, measure z, hotel panic buttons, panic badges for hotel, panic, sos badge, bluetooth, exact location, indoor positioning, indoor find, find a person, find an employee, track employee, tracking, safety employee, hotel compliance, hospitality, hospitality button, state button panic,panic button, panic badge, hotel panic badge, hotel panic button, hotel security, bluetooth id badge, law required, bluetooth id badge, law required, pebblebrook hotel, guest room, hotel, housekeeper union, hotels long beach, sexual harassment requires hotels hotel chains push a button, hotel industry, guest room hotel, housekeeper union, hotels long beach sexual harassment, requires hotels hotel chains push a button hotel industry, ahla, aahoa, 5 star promise, five star promise, hotel compliance, Marriott, hilton, Hyatt, best western, Springhill suites, courtyard, measure z, hotel panipanic button, panic badge, hotel panic badge, hotel panic button, hotel security, bluetooth id badge, law required, bluetooth id badge, law required, pebblebrook hotel, guest room, hotel, housekeeper union, hotels long beach, sexual harassment requires hotels hotel chains push a button, hotel industry, guest room hotel, housekeeper union, hotels long beach sexual harassment, requires hotels hotel chains push a button hotel industry, ahla, aahoa, 5 star promise, five star promise, hotel compliance, Marriott, hilton, Hyatt, best western, Springhill suites, courtyard, measure z, hotel panic buttons, panic badges for hotel, panic, sos badge, bluetooth, exact location, indoor positioning, indoor find, find a person, find an employee, track employee, tracking, safety employee, hotel compliance, hospitality, hospitality button, state button panic, panic button, panic badge, hotel panic badge, hotel panic button, hotel security, bluetooth id badge, law required, bluetooth id badge, law required, pebblebrook hotel, guest room, hotel, housekeeper union, hotels long beach, sexual harassment requires hotels hotel chains push a button, hotel industry, guest room hotel, housekeeper union, hotels long beach sexual harassment, requires hotels hotel chains push a button hotel industry, ahla, aahoa, 5 star promise, five star promise, hotel compliance, Marriott, hilton, Hyatt, best western, Springhill suites, courtyard, measure z, hotel panic buttons, panic badges for hotel, panic, sos badge, bluetooth, exact location, indoor positioning, indoor find, find a person, find an employee, track employee, tracking, safety employee, hotel compliance, hospitality, hospitality button, state button panic, c buttons, panic badges for hotel, panic, sos badge, bluetooth, exact location, indoor positioning, indoor find, find a person, find an employee, track employee, tracking, safety employee, hotel compliance, hospitality, hospitality button, state button panic,ic button, panic badge, hotel panic badge, hotel panic button, hotel security, bluetooth id badge, law required, bluetooth id badge, law required, pebblebrook hotel, guest room, hotel, housekeeper union, hotels long beach, sexual harassment requires hotels hotel chains push a button, hotel industry, guest room hotel, housekeeper union, hotels long beach sexual harassment, requires hotels hotel chains push a button hotel industry, ahla, aahoa, 5 star promise, five star promise, hotel compliance, Marriott, hilton, Hyatt, best western, Springhill suites, courtyard, measure z, hotel panic buttons, panic badges for hotel, panic, sos badge, bluetooth, exact location, indoor positioning, indoor find, find a person, find an employee, track employee, tracking, safety employee, hotel compliance, hospitality, hospitality button, state button panic, panic button, panic badge, hotel panic badge, hotel panic button, hotel security, bluetooth id badge, law required, bluetooth id badge, law required, pebblebrook hotel, guest room, hotel, housekeeper union, hotels long beach, sexual harassment requires hotels hotel chains push a button, hotel industry, guest room hotel, housekeeper union, hotels long beach sexual harassment, requires hotels hotel chains push a button hotel industry, ahla, aahoa, 5 star promise, five star promise, hotel compliance, Marriott, hilton, Hyatt, best western, Springhill suites, courtyard, measure z, hotel panic buttons, panic badges for hotel, panic, sos badge, bluetooth, exact location, indoor positioning, indoor find, find a person, find an employee, track employee, tracking, safety employee, hotel compliance, hospitality, hospitality button, state button panic,panic button, panic badge, hotel panic badge, hotel panic button, hotel security, bluetooth id badge, law required, bluetooth id badge, law required, pebblebrook hotel, guest room, hotel, housekeeper union, hotels long beach, sexual harassment requires hotels hotel chains push a button, hotel industry, guest room hotel, housekeeper union, hotels long beach sexual harassment, requires hotels hotel chains push a button hotel industry, ahla, aahoa, 5 star promise, five star promise, hotel compliance, Marriott, hilton, Hyatt, best western, Springhill suites, courtyard, measure z, hotel panic buttons, panic badges for hotel, panic, sos badge, bluetooth, exact location, indoor positioning, indoor find, find a person, find an employee, track employee, tracking, safety employee, hotel compliance, hospitality, hospitality button, state button panic, panic button, panic badge, hotel panic badge, hotel panic button, hotel security, bluetooth id badge, law required, bluetooth id badge, law required, pebblebrook hotel, guest room, hotel, housekeeper union, hotels long beach, sexual harassment requires hotels hotel chains push a button, hotel industry, guest room hotel, housekeeper union, hotels long beach sexual harassment, requires hotels hotel chains push a button hotel industry, ahla, aahoa, 5 star promise, five star promise, hotel compliance, Marriott, hilton, Hyatt, best western, Springhill suites, courtyard, measure z, hotel panic buttons, panic badges for hotel, panic, sos badge, bluetooth, exact location, indoor positioning, indoor find, find a person, find an employee, track employee, tracking, safety employee, hotel compliance, hospitality, hospitality button, state button panic,panic button, panic badge, hotel panic badge, hotel panic button, hotel security, bluetooth id badge, law required, bluetooth id badge, law required, pebblebrook hotel, guest room, hotel, housekeeper union, hotels long beach, sexual harassment requires hotels hotel chains push a button, hotel industry, guest room hotel, housekeeper union, hotels long beach sexual harassment, requires hotels hotel chains push a button hotel industry, ahla, aahoa, 5 star promise, five star promise, hotel compliance, Marriott, hilton, Hyatt, best western, Springhill suites, courtyard, measure z, hotel panic buttons, panic badges for hotel, panic, sos badge, bluetooth, exact location, indoor positioning, indoor find, find a person, find an employee, track employee, tracking, safety employee, hotel compliance, hospitality, hospitality button, state button panic,panic button, panic badge, hotel panic badge, hotel panic button, hotel security, bluetooth id badge, law required, bluetooth id badge, law required, pebblebrook hotel, guest room, hotel, housekeeper union, hotels long beach, sexual harassment requires hotels hotel chains push a button, hotel industry, guest room hotel, housekeeper union, hotels long beach sexual harassment, requires hotels hotel chains push a button hotel industry, ahla, aahoa, 5 star promise, five star promise, hotel compliance, Marriott, hilton, Hyatt, best western, Springhill suites, courtyard, measure z, hotel panic buttons, panic badges for hotel, panic, sos badge, bluetooth, exact location, indoor positioning, indoor find, find a person, find an employee, track employee, tracking, safety employee, hotel compliance, hospitality, hospitality button, state button panic,panic button, panic badge, hotel panic badge, hotel panic button, hotel security, bluetooth id badge, law required, bluetooth id badge, law required, pebblebrook hotel, guest room, hotel, housekeeper union, hotels long beach, sexual harassment requires hotels hotel chains push a button, hotel industry, guest room hotel, housekeeper union, hotels long beach sexual harassment, requires hotels hotel chains push a button hotel industry, ahla, aahoa, 5 star promise, five star promise, hotel compliance, Marriott, hilton, Hyatt, best western, Springhill suites, courtyard, measure z, hotel panipanic button, panic badge, hotel panic badge, hotel panic button, hotel security, bluetooth id badge, law required, bluetooth id badge, law required, pebblebrook hotel, guest room, hotel, housekeeper union, hotels long beach, sexual harassment requires hotels hotel chains push a button, hotel industry, guest room hotel, housekeeper union, hotels long beach sexual harassment, requires hotels hotel chains push a button hotel industry, ahla, aahoa, 5 star promise, five star promise, hotel compliance, Marriott, hilton, Hyatt, best western, Springhill suites, courtyard, measure z, hotel panic buttons, panic badges for hotel, panic, sos badge, bluetooth, exact location, indoor positioning, indoor find, find a person, find an employee, track employee, tracking, safety employee, hotel compliance, hospitality, hospitality button, state button panic, panic button, panic badge, hotel panic badge, hotel panic button, hotel security, bluetooth id badge, law required, bluetooth id badge, law required, pebblebrook hotel, guest room, hotel, housekeeper union, hotels long beach, sexual harassment requires hotels hotel chains push a button, hotel industry, guest room hotel, housekeeper union, hotels long beach sexual harassment, requires hotels hotel chains push a button hotel industry, ahla, aahoa, 5 star promise, five star promise, hotel compliance, Marriott, hilton, Hyatt, best western, Springhill suites, courtyard, measure z, hotel panic buttons, panic badges for hotel, panic, sos badge, bluetooth, exact location, indoor positioning, indoor find, find a person, find an employee, track employee, tracking, safety employee, hotel compliance, hospitality, hospitality button, state button panic, c buttons, panic badges for hotel, panic, sos badge, bluetooth, exact location, indoor positioning, indoor find, find a person, find an employee, track employee, tracking, safety employee, hotel compliance, hospitality, hospitality button, state button panic,